Crosswater Development 
Gated Residential Community Total size of development: 600 Acres  
This figure includes:  
274 acres of golf course and 200 acres of open space.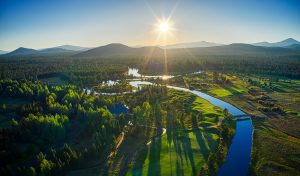 94 Estate Lots (2 consolidated for 92 buildable): Lots average ¾ acre in size.  Of the 92 buildable lots 77 are completed or under construction leaving 15 buildable lots.  All 23 Osprey Homes are completed, and overnight rentals are allowed.  
No overnight rentals allowed in residential homes.  
Quarterly Assessments for 2022 are $1,245.00 per quarter. These provide for the maintenance of common area landscaping; pool, spa, exercise and tennis court facilities; roadways and snow  removal on roadways; gatehouse staff; security guard, walking paths and maintenance staff and  equipment. Also included are management services and capital replacement reserves.  
Design Guidelines 
The Owners' Association, through the Design Review Committee, exercises architectural control  over any proposed construction on a lot or remodeling of a current property. The review fees vary  depending on the project, but new construction includes a one-time fee of $4,000, as well as a  $5,000 refundable construction deposit which is required prior to construction.  
Each lot has an approved building envelope. Owners should work with qualified engineers and  architects to ensure proper consideration of climate, topography, soils and drainage conditions.  For more information, please review the Crosswater Design Guidelines, plat map and site analysis  plan (including building envelope) for each lot.  
Owner Amenities 
These amenities are restricted to Crosswater and Osprey Pointe Owners and their guests.  Heated Swimming Pool, Spa, Exercise Facility & Bike Paths.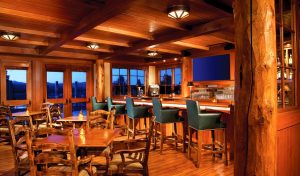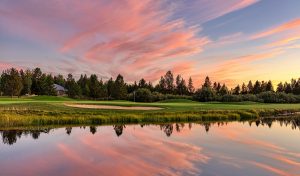 Gated Entrance: The gatehouse is staffed year-round; the telephone number is (541) 593-2565. All Crosswater roads were completely rebuilt in 2011 and resurfaced in 2017. Bike paths are  maintained appropriately as well.  
Two Tennis Courts – Re-surfaced in 2012.  
On-site mail delivery to cluster boxes.  
3.25 miles of paved walking and bicycle trails.  
Private security patrol.  
Police and Fire Protection 
Deschutes County Sheriff provides police services.  
La Pine Rural Fire District provides fire protection.  
Utilities 
Sunriver Water, LLC provides domestic water and sewer service.  
Cascade Natural Gas provides natural gas.  
Midstate Electric provides electrical service.  
Bend Broadband provides cable television and high-speed internet service.  CenturyLink provides telephone service.  
Deschutes County Property Tax 
Contact Deschutes County for the current taxable assessed value for vacant land (County Tax  Area 1-066), or for taxable assessed value for improved land (County Tax Area 1-068).  
Crosswater Golf Course 
7,693 yards, covering 274 acres (average courses cover 150 acres). Scottish "heathland" style  course with bent grass fairways, designed by Robert Cupp. Voted "Best New Course" in 1995 by  Golf Digest magazine and also rated in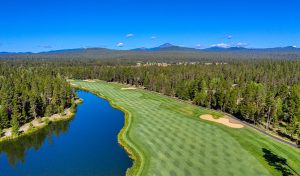 1999-2000 as one of "America's 100 greatest courses" by  Golf Digest magazine. Crosswater was also host to the JELD-WEN Tradition golf event in 2007- 2010. Access to the Course, Clubhouse and Food & Beverage establishments is limited to  members of the Club and guests of Sunriver Resort. Crosswater Owners do not need to due  
For information on membership, please contact one of the numbers below.  
Club Manager: Mark Meyer, PGA (541) 593-3410 
Member Relations Manager: Adam Ullman, PGA (541) 593-3428 
Crosswater Golf Shop (541) 593-3785
Active Listings in Crosswater