The holidays are here! Be sure to check out this Sunriver Holiday Guide so that you don't miss out on any of the merry traditions we have!
Sunriver
Sunriver is a magical place during the holidays. If we're lucky, we'll get a snowstorm to transform this mountain resort into a winter wonderland. Sunriver goes all out for the holidays and our Sunriver Holiday Guide makes sure you won't miss a thing!
Grand Illumination
Saturday November 19th | The tree lighting and fireworks show starts at noon with pony rides in front of the Sunriver Resort Lodge. The tree lighting, followed by fireworks is at 5:45pm.
Holiday Light Show
November 20th – January 1 | Head out to Sunriver Resort Lodge for a family night or date night and enjoy the holiday light show. Nightly at 5:30, 6:30 and 7:30pm, you can enjoy the holiday light show. We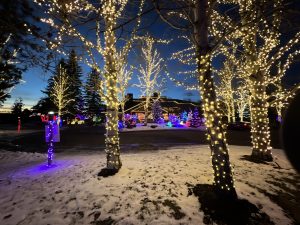 recommend going to dinner at Lodge Kitchen and enjoying the lights before or after.
Sunriver Holiday Market
November 26 – November 27 | Don't miss the Sunriver Holiday Market at the Homestead Ballroom at Sunriver Resort. Over 40 local vendors will be there to spread holiday cheer.
Gingerbread Junction
December 9th – January 1 | This is a must do during the holidays. The gingerbread house competition has been going on for 27 years and always impresses! Grab a drink at the Owls Nest after looking at the amazing gingerbread houses.
Winter Sleigh Rides
December 17 – December 24 & December 31 – January 1 | Enjoy a sleigh ride through the Meadows Golf Course at Sunriver Resort.
Sunriver Ice Arena
November 19 – April 15 | Ice skating in Sunriver isn't just a holiday activity, it's a quintessential winter activity. We highly recommend checking out the ice rink when you're out in Sunriver enjoying all of the holiday festivities.
If you would like to see a property in Sunriver while you're here for the holidays, don't hesitate to contact us.
Active Listings in Sunriver