It's a magical time of year in Bend, fresh hop season! This only happens after the yearly hop harvest is upon us. If you're looking, you'll start to see a whole new selection of beers hitting the taps at our local breweries. These fresh hop beers will only be around for a limited time, so take advantage of them while you can!
What is a fresh hop beer?
Through years of Oregon Breweries and Oregon Hop Growers working side by side, the fresh hop beer was born. This is a beer that is brewed with hops that have never been dried and are picked at peak ripeness. Think of the difference between using fresh herbs and dried herbs, the aroma and taste are on another level for these fresh hop beers.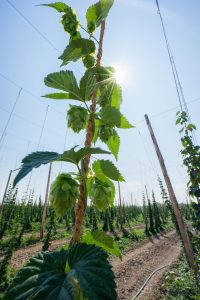 What is a hop?
Hops are the flowers of the Humulus Lupulus, a climbing vine. When you drive around Oregon and see a matrix of 10-15 foot tall poles all strung together with wire, that is most likely a hop farm.
Why is this unique to Bend?
Hop growers are not found only in Bend but also throughout the Pacific Northwest and Idaho. The hop flowers need to be in the brewing process within 24 hours or less of harvest to create a fresh hop beer. Some breweries will even try to have them in the brewing process within an hour or two from harvest for peak freshness. Oregon, Washington and Idaho account for 99% of the hop production in the US and the close proximity of our local breweries and hop farms make this tasty time of year possible.
Is there a fresh hop festival in Central Oregon?
There most certainly is, the Sisters Fresh Hop Festival is a ton of fun! This year, it will be on September 24th from 12pm-6pm at 265 E Barclay Dr. in Sisters, Oregon. There will be 20+ breweries, food trucks,  and live music to enjoy — all ages are welcome. (https://www.sistersfreshhopfest.com)
Active Listings in Sisters: