Fire season will soon be upon us in Central Oregon and it's time to do your part! Creating defensible space around your house is the best way that you can protect your home and help fire crews defend your property in the event of a fire.
A few tips to prepare for fire season:
Remove dead plants, grass and weeds from your property.
Clean all plant material and debris from your roof and gutters.
Remove any branches that hang out over your roof.
Inspect screens in soffits, attic and foundation vents to ensure large embers can't enter.
Move woodpiles and other flammable material away from your house.
Central Oregon Fire has up-to-date information on local fires and controlled burns.
Head to Cal Fire's website (https://www.readyforwildfire.org) for more great information and reach out if you need help finding a contractor to help prepare your property for fire season.
Always report any unattended fires that you come across when you're out enjoying our wonderful outdoor playground. Below is a campfire that wasn't fully extinguished in the Yosemite backcountry. Although it doesn't look like much, it had burned under the rock fire ring to about 10 feet in diameter. It was too big to extinguish without tools and was thankfully called in before it got out of control. A helicopter was sent out with firefighters to extinguish it.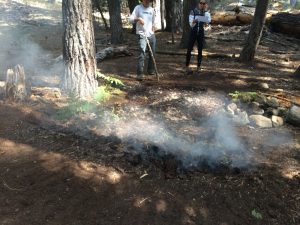 Active Listings in the Bend Area